PAKISTAN
Key developments since May 2000: It appears Pakistan is engaged in new production of both hand-emplaced detectable mines and remotely delivered mines. Pakistan is continuing to modify its stockpile of low metal content mines. From August to December 2000, the non-governmental organization Human Survival and Development (HSD) carried out an assessment mission in the Federally Administered Tribal Areas and collected data on landmine victims in the Bajaur Agency. This household survey identified 599 landmine victims since 1980. In 2000, 31 people were killed or injured by landmines in Bajaur Agency. HSD launched the first mine awareness program in August 2000. As of December 2000 it had reached 24,076 people, in about 147 villages of the Bajaur Agency.
Mine Ban Policy
Pakistan has not acceded to the Mine Ban Treaty. No significant change has occurred in government policy on landmines. In a letter to the ICBL in January 2001, Pakistan's Director General for Disarmament said, "We fully subscribe to the goal of the eventual elimination of landmines and once again I hope to assure you that our actions do not stand against the objectives of the [Mine Ban Treaty].... Our non adherence to the 1997 Treaty is principally based on our security concerns along our Eastern border and the Line of Control and not because we favor any measures that may harm civilians. Unless a viable alternative to the use of landmines for defence purposes is available, countries like Pakistan would find it difficult to join the Convention."[1]
A Pakistani Ambassador stated in January 2001, "Though Pakistan is not a party to the [Mine Ban Treaty], it remains fully committed to its humanitarian obligations.... Since the Ottawa Process which culminated in the signing of the Treaty is seen as an idealistic approach, some believe that it is unlikely to bring the entire world on the same platform.... While we do appreciate efforts to rid the world of the menace of landmines, our approach on the issue is based on pragmatism and realism. The reality is dictated by our strategic compulsions, which require augmentation and strengthening of our defence along the long borders of Pakistan. The incorporation of landmines in our defence doctrine is more for the purpose of deterrence as they constitute the obstacle system and create a psychological barrier. The constraints of terrain also make them militarily essential weapons for us."[2]
Pakistan abstained from voting on the November 2000 UN General Assembly resolution in support of the Mine Ban Treaty, as it had in previous years. Pakistan did not attend the Second Meeting of States Parties to the Mine Ban Treaty in September 2000, and did not participate in the treaty's intersessional meetings in December 2000 and May 2001.
Pakistan is a party to Amended Protocol II of the Convention on Conventional Weapons (CCW). At the Second Annual Conference of States Parties to Amended Protocol II in Geneva in December 2000, Pakistan expressed its view that the Protocol should not be revised further as this would hinder universalization and cause problems in implementation.[3] Pakistan also submitted its annual report as required under Article 13 of Amended Protocol II.[4]
Pakistan is a member of the Conference on Disarmament (CD) and in the past year has on several occasions expressed its support for negotiating an international legal instrument against the transfer of antipersonnel mines in the CD.[5]
Production
State-owned Pakistan Ordnance Factories has produced six types of antipersonnel mines – two minimum-metal blast mines (P2 Mk2 and P4 Mk2), two bounding fragmentation mines (P3 Mk2 and P7 Mk2) and two directional fragmentation/Claymore-type mines (P5 Mk1 and P5 Mk2). In its December 2000 CCW Amended Protocol II Article 13 report, Pakistan stated that since 1 January 1997 it has produced only detectable antipersonnel landmines.[6] It is assumed that means that production of P2 Mk2 and P4 Mk2 blast mines has stopped, or that only new detectable versions are being produced.
In January 2001 Pakistan Ambassador Fouzia Nasreen told a Landmine Monitor meeting that "manufacturing as well as use of 'fragmentation mines' has been abandoned."[7] Landmine Monitor has been unable to confirm this statement from any other official source.[8]
In its October 1999 Article 13 report, Pakistan stated that Amended Protocol II-compliant specifications for remotely delivered mines had been implemented,[9] and in a December 1999 interview a senior Pakistan official stated that new production would include both detectable hand-emplaced antipersonnel mines and remotely delivered mines with self-destruct and self-deactivating mechanisms.[10] However, Pakistan's December 2000 Article 13 report did not mention production of remotely delivered mines.
Landmine Monitor has received no response from the Ministry of Defense to its inquiries regarding production and stockpiling of antipersonnel mines.[11]
Transfer
Pakistan states that it has not exported antipersonnel mines since 1991. It declared a unilateral moratorium on exports in 1997. On 25 February 1999 Pakistan "totally banned the export of APLs"[12] through Statutory Regulatory Order-123(1)1999 and "its effective implementation is being ensured through well-laid down 'Export Control Procedures.'"[13]
As reported in Landmine Monitor Report 2000, it appears that certain armed groups operating in Kashmir have access to mines manufactured by Pakistan Ordnance Factory. During interviews in January 2000 with senior Indian Border Security Force officials and Indian Army officials in Kashmir, the Landmine Monitor researcher for South Asia was shown, and took photographs of, recovered antipersonnel and antitank mines that had the seal of the Pakistan Ordnance Factories on them. It is not known when or how the mines entered the area.[14] This could constitute a violation of Pakistan's domestic law, as well as Article 8 of Amended Protocol II which prohibits transfers to any recipient other than a state or state agency authorized to receive such transfers.
Stockpiling
The Landmine Monitor Report 2000 estimated Pakistan's antipersonnel mine stockpile to be at least six million, based on information provided by a senior Pakistani official. The government has not yet confirmed or denied that estimate, or disclosed any new figures relating to its stockpile.
According to its Article 13 report, "Pakistan continues apace to convert its existing stockpiles of non-detectable APLs into detectable ones. This task will be completed within the laid down time frame as provided for in the Protocol [nine years]."[15] The mines "are being made detectable by placing a metallic disc in the mines while laying the mines as spelt out in the Protocol."[16] Some 2.5 million mines had been converted by the end of 1999, but no updated figures are available.[17]
Use
As noted in Landmine Monitor Report 2000, the Pakistan Army used landmines during its three wars with India in 1947, 1965, and 1971. Pakistan has also laid antipersonnel mines in front of its defended localities in Jammu and Kashmir. India accused Pakistani army troops of using mines during the intense fighting in the Kargil region of Kashmir in mid-1999.
There continue to be frequent reports of use of landmines by Pakistan-supported militants in Kashmir. According to the Indian government website, 386 antipersonnel and antitank mines were recovered from militants in Kashmir in 2000 and another 46 mines were recovered in 2001 as of 31 May.[18]
In addition, tribesmen continue to use mines and Improvised Explosive Devices, mostly in personal and inter-tribal disputes. During October and November 2000, three incidents occurred in the Kohlu District, Baluchistan Province of Pakistan.[19] One source said the incidents were believed to be the result of the conflict between the Gizni and Bijarani tribes;[20] however, a police statement blamed the Marri tribesmen.[21]
Landmine Problem
The government of Pakistan continues to maintain that "Pakistan is not a mine-afflicted country" and that "there are no problems of un-cleared mines and casualties in areas under the jurisdiction" of the government.[22] In its December 2000 Article 13 report, however, Pakistan acknowledges that "certain problems faced in the areas bordering Afghanistan are the legacy of continuing turmoil and the porous nature of its border with Afghanistan, which is being taken care of."[23]
Indeed, the Federally Administrated Tribal Areas (FATA) of Pakistan, especially the Bajaur and Kurram tribal areas, have been contaminated with landmines since the outbreak of the USSR-Afghanistan war in December 1979. During cross-border attacks, Soviet and Afghan forces scattered large quantities of mines from aircraft and helicopters over wide areas of ground. In addition, the Mujahideen used landmines to protect their bases in the tribal areas. There were fifty-five major bases on the Pakistan side of the border, most situated between Miranshah in North Waziristan, through Parachinar in Kurram, to Mohmand and Bajaur.[24]
The mines have caused hundreds of casualties and taken a serious socio-economic toll. Until very recently the extent of the problem has been underestimated; in particular, local officials and medical personnel were lacking information on remote border areas. A household survey carried out from August to December 2000 by the Pakistan-based non-governmental organization Human Survival and Development (HSD) has demonstrated the socio-economic impact of landmines on the people of Bajaur, who face an ever-present risk of landmines while earning their livelihoods and carrying out their social functions. (See below for more details on the survey). The sub-district of Mamund in the Bajaur Agency is one of the worst affected by landmines, accounting for 78% of the victims identified in the region.
Mine Action Funding/Assistance
Pakistan's contribution to international mine action has been in-kind services, primarily for UN mine clearance operations, in places including Kuwait, Cambodia, Angola, Bosnia, and Western Sahara.[25] During 2000 and 2001, Pakistan has offered demining assistance to Lebanon;[26] it has offered support in the form of scientists and dummy and live mines for testing to the International Atomic Energy Agency (IAEA) for field-testing and improvement of nuclear techniques and equipment to locate landmines during humanitarian demining operations;[27] and Pakistan forces participating in the UN Mission in East Timor carried out occasional UXO clearance operations.[28] Pakistan's UN Ambassador told the UN General Assembly in October 2000, "We will continue to offer in-kind contributions to global demining efforts."[29]
The Swiss Foundation For Landmine Victims Aid provided $63,880 for the Human Survival and Development's mine awareness program. Funding for HSD's study, "Assessment of Organizational Structure and of Operation and Plans in Response to Landmine and UXO-Affected Communities in the Federally Administered Tribal Agencies of Pakistan" has been provided by the Swiss Federation for Mine Clearance ($20,000).
Landmine Survey and Assessment
In August and September 2000, consultant Rae McGrath (founder of the UK-based demining organization Mines Advisory Group) carried out a field assessment mission in the FATA for Human Survival and Development.[30] The mission report indicated that antipersonnel mines found in the FATA included Soviet PMN, PMD-6, M46 "bottle mine," and the Pakistan-manufactured P2 Mk2. Many of the casualties were victims of PFM-1 Butterfly scatterable antipersonnel mines.
The assessment identified areas where landmines and unexploded ordnance are causing regular death and injuries, such as the village of Teri Mangal where mines and munitions are readily visible, as well as areas where there have been no recent incidents, but anecdotal or historical evidence of mines results in denial of land to communities anyway; an example is Shalozan, where 15 villages are denied the use of good arable and pastoral land because PMN and PFM-1 mines have been discovered, although there are no reported incidents.
Mine Clearance
In a November 2000 statement to the United Nations General Assembly, Pakistan said that "mine clearance or demining remains at the heart of all mine action activities," and spoke in opposition to "diversion of scarce resources" to activities like advocacy campaigns, mine awareness and victim assistance.[31] The Corps of Engineers of the Pakistan Army is the central agency in charge of all operations concerning the military use of landmines, including mine clearance. In 2000 the Corps did not undertake any classical mine clearance operation in the country.[32]
Mine Awareness
The NGO Human Survival and Development has conducted the only mine awareness education in the country. HSD launched its mine awareness program in August 2000. As of December 2000 it had reached 24,076 people, in about 147 villages of the Bajaur Tribal area. Mine awareness education was held in public places like mosques, schools, and Hujras. HSD targeted school children, teachers, Mullahs, religious authorities, elders, and youth. The program included risk avoidance education and first aid measures, and utilized wooden mine models and posters of common mine types. Women could not be reached directly, due to their cultural seclusion from public places. HSD has employed child-to-child and child-to-woman techniques for the widespread dissemination of its mine awareness message.[33]
Landmine Casualties
From August to December 2000, Human Survival and Development collected data on landmine victims in the Bajaur Agency, believed to be one of the most mine-affected areas in the country.[34] This household survey identified 599 landmine victims since 1980. HSD believes that the actual number of landmine victims is higher than this figure. In 2000, 31 people were killed or injured by landmines in Bajaur Agency.
Of the 599 victims, 261 (44%) were killed and 253 (42%) required amputations. Women, who are actively involved in agricultural activities, represent 35% of those killed or injured. Children, under 18 years, account for 29% of casualties. Landmine casualties predominantly occurred while farming/grazing animals/crossing fields (40%) or while out walking (21%). The sub-district of Mamund in the Bajaur Agency accounted for 469 (78%) of the victims identified.
The table below shows the number of victims per year. According to HSD, the high casualty rate in the 1990s may be explained by the fact that those who migrated to safer places returned to their homes when Soviet troops left Afghanistan, and the areas near the border came under the control of the Mujahideen. More detailed research is needed to confirm this hypothesis.
There have also been at least six landmine incidents reported in the media that have killed or injured both local people and security forces in the second half of 2000, especially in Baluchistan. In each incident, the mines were planted along the Kohlu-Chamalang road; in one incident, two people were killed and eight injured after their vehicle hit a mine planted in the middle of the road.[35]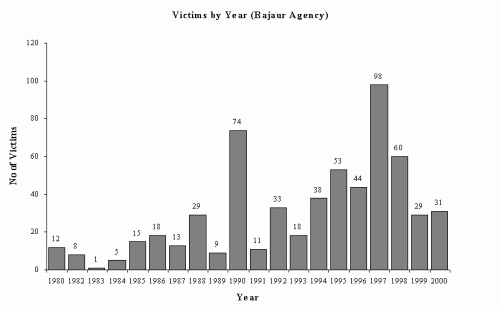 Survivor Assistance
The Pakistan Campaign to Ban Landmines reports that there are no psychological, social or rehabilitation facilities provided by the government, or any national or international organizations, for landmine survivors. Prosthetic and assistance device facilities are available in Pakistan but most victims cannot afford the service. Only 14% of landmine victims interviewed in the Bajaur Agency had the resources to pay for treatment after their accidents; the majority had to borrow money or sell property. The HSD survey noted inadequate and inefficient medical infrastructure, lack of first aid facilities, the absence of emergency medical care, lack of emergency evacuation capabilities, and the inability of victims to pay for treatment or medicines.
The HSD/McGrath assessment report found that the general hospital in Khar has 40 beds and a population coverage exceeding one million. There is no trauma unit or orthopedic specialist. Most of the landmine victims are evacuated to Peshawar. In Kurram the hospital in Parachinar has surgical facilities including an orthopedic surgeon and has also a Rehabilitation Center for Handicapped. However, there is no prosthetic facility and amputees are sent to Peshawar.[36]
The high death rate among landmine casualties in the Bajaur Agency (44%) can be attributed to the time taken to transport landmine victims to suitably equipped medical centers, in many incidents up to six hours, and the lack of emergency first aid facilities. From August 2000, HSD initiated an emergency evacuation training program for the local community in Bajaur Agency. The HSD field team has also provided first aid training.
---