Landmine Monitor Report 2007: Toward a Mine-Free World was released at a press conference and panel discussion entitled "Challenges of Human Security in India: Increase in Landmines and IED Blasts," held at the Control Arms Foundation of India in New Delhi on 14 December, 2007. Ms. Binalakshmi Nepram, Secretary General of Control Arms Foundation of India provides an account of the event below.
Chief Guest, retired Ambassador Satnam Jit Singh, Diplomatic Advisor to the International Campaign to Ban Landmines released the report. The meeting was attended by a number of dignitaries, academics, peace and human rights activists, members of the media and serving officers of the Indian security establishment.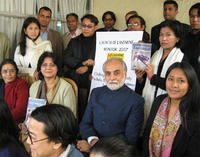 Dr. Anuradha Chenoy, Professor at Jawaharlal Nehru University and honorary Vice-President of Control Arms Foundation of India welcomed the guests, reiterated the need for India to accede to the Mine Ban Treaty and called upon civil society to question the concept of "national security," which is not inclusive of security of the people. Amb. Singh called upon the Government of India to sign the Mine Ban Treaty, citing a lack of "viable alternatives." "If 156 countries and their armed forces learned to protect their borders without using landmines, then India can do it too," stated Amb. Singh.
An update on the extent of the global landmine problem and its relation the Mine Ban Treaty was presented by Ms. Jacqueline Edwards of Mines Action Canada (MAC)/Society for All Round Development (SARD), while local case studies of increased use of landmines and improvised explosive devices (IEDs) in Northeast India, Kashmir & Naxal were presented by Ms. Binalakshmi Nepram and Dr. Bibhu Routray of the Institute of Conflict Management, New Delhi.
A film documenting the landmine problem in India's Jammu & Kashmir, produced by Faiyaz Dilbar was also screened. The meeting concluded with a series of recommendations for steps to be taken to address the landmine issue in India in a more effective and comprehensive manner.
Please visit the website of Control Arms Foundation of India www.cafi-online.org for the complete version of these recommendations.