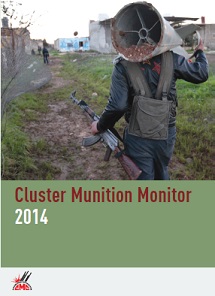 Cluster Munition Monitor 2014 will be launched 27 August via virtual briefings for media and will be available online afterwards.
A separate briefing will occur on 2 September for delegates to the Fifth Meeting of States Parties to the Convention on Cluster Munitions in San Jose, Costa Rica. This latest Monitor publication provides an overview of global efforts to eliminate cluster munitions, focusing on developments that occurred in 2013 and the first half of 2014.
Embargoed copies of the report will be available 25 August. To sign up for more details, email monitor_intern@icblcmc.org.