Landmine Monitor 2014 will be launched on 3 December during a virtual press briefing.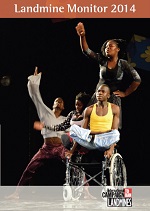 Latest factsheet on children and Mines/ERW as well as new report Equal Basis 2014: Access and Rights in 33 Countries also forthcoming.
See latest Monitor newsletter for more details on these new publications, upcoming calendar, as well as the September launch and reception to Cluster Munition Monitor 2014, the blog, and more.