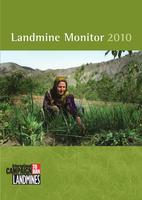 Landmine Monitor 2011 will be released on 23 November 2011.
The following media kit was updated in advance of the 24 November 2010 release of Landmine Monitor 2010.
This is the 12th Landmine Monitor report, the sister publication to the Cluster Munition Monitor report, which was published for the first time this year. Landmine Monitor 2010 covers landmine ban policy, use, production, trade, and stockpiling for every country in the world, and also includes information on landmine and explosive remnant of war contamination, casualties, clearance, and victim assistance. The report focuses on the period from May 2009, with information included up to August 2010 when possible.
For more information or to schedule an interview, contact:
Amelie Chayer, ICBL Communications Officer, mobile +41-78-728-53-20 (23 November–3 December) and +33-6-89-55-12-81, email amelie@icbl.org
Jacqueline Hansen, Landmine and Cluster Munition Monitor Program Manager, mobile +41-78-606-94-68 (22 November–3 December) and +1-613-851-5436, email jackie@icbl.org
Download the full Media Kit (PDF):
Or follow the links below to view or download individual media kit documents:
Media materials in other languages:
There are also a variety of multimedia resources:
Press releases from other organizations about the release of Landmine Monitor 2010:
Handicap International France - French: Download
Human Rights Watch - English: View
Japan Campaign to Ban Landmines - Japanese: Download
Mines Action Canada - English: View